How can we have an uncensored conversation
about sex and sexuality?
Introduction
Bolobolo is a campaign and a resource to encourage dialogue about sex and sexual education in mumbai, india. Sex Education is banned in public schools by the government in multiple states in India and so many youth do not have the information they need to take care of their sexual health. Bolo bolo is an attempt to give out that information and point people to the right resources they need, for example, non-judgemental gynecologists, free clinics, low cost birth control and general information about their sexual health. 
Goal
 
The ideal outcome would be both a campaign, which creates awareness and uses that awareness and PR to educate, and a resource where people can access information on things like where they can get contraception, how much does it cost, what are their options, what are STIs etc. A part of the resource would be a curriculum for young adults to have school programs where they can also learn about the HPV vaccine, menstrual health etc. 
Challenge
How can we de-stigmatize sexual education and make it accessible in a culture where it is tabooed and censored?
The challenge is to get people to understand that sex education does not encourage people to have sex, but rather it helps people keep their bodies healthy. Sexual and reproductive health care is like taking care of any other part of your body. However, because of the taboo on premarital sex, there is a gross ignorance in how to stay sexually healthy, because no one wants to admit to being sexually active in the first place. Therefore, this very physiological problem has a very social aspect. As illustrated in the mind map below, in order to navigate the science, we must first get through the social.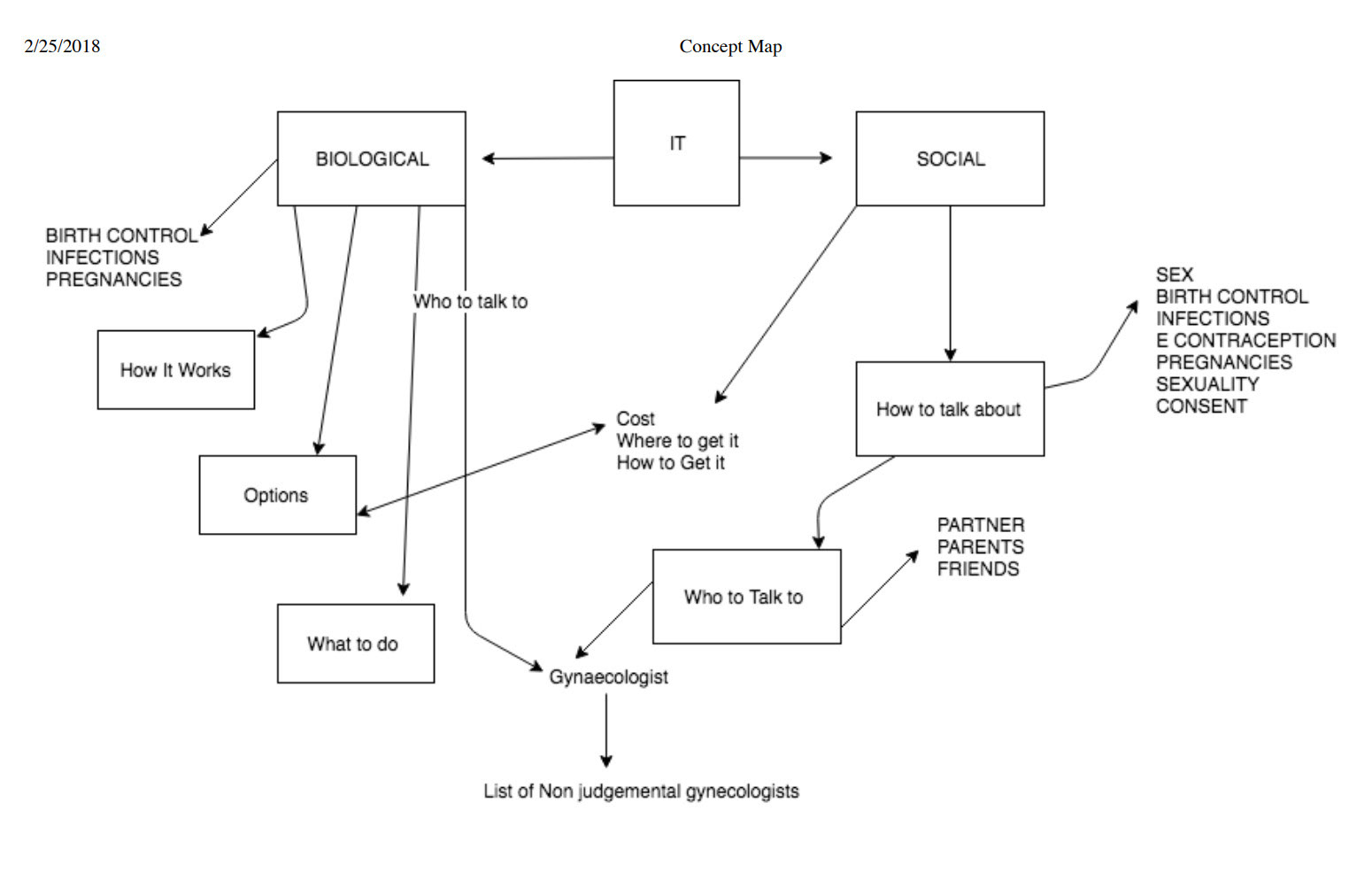 I User Research Survey
 


To really understand the problem, I did user research and asked about 30 Mumbai based (unmarried) adults between the ages of 19 and 29 about their experiences accessible information and healthcare they need regarding their sexual health. The answers only further convinced me how necessary this initiative was. The purpose of the survey to was get a better idea of the current state of reproductive healthcare and education. 
1. What biological gender are you?
2. What kind of sex education did you receive from parents/teachers? 
3. Where did you get information about safe sex? (birth control, infections, emergency pill)
4. If you are biologically female have you taken the HPV vaccine?
5. Are you sexually active?
6. Do you use birth control? What kinds?
7. How often do you get tested?
8. How often have you or your partner ever taken the morning after pill?
9. Do you go to a non-judgemental gynecologist you can trust?
10. Do you think a resource of comprehensive sex education is needed?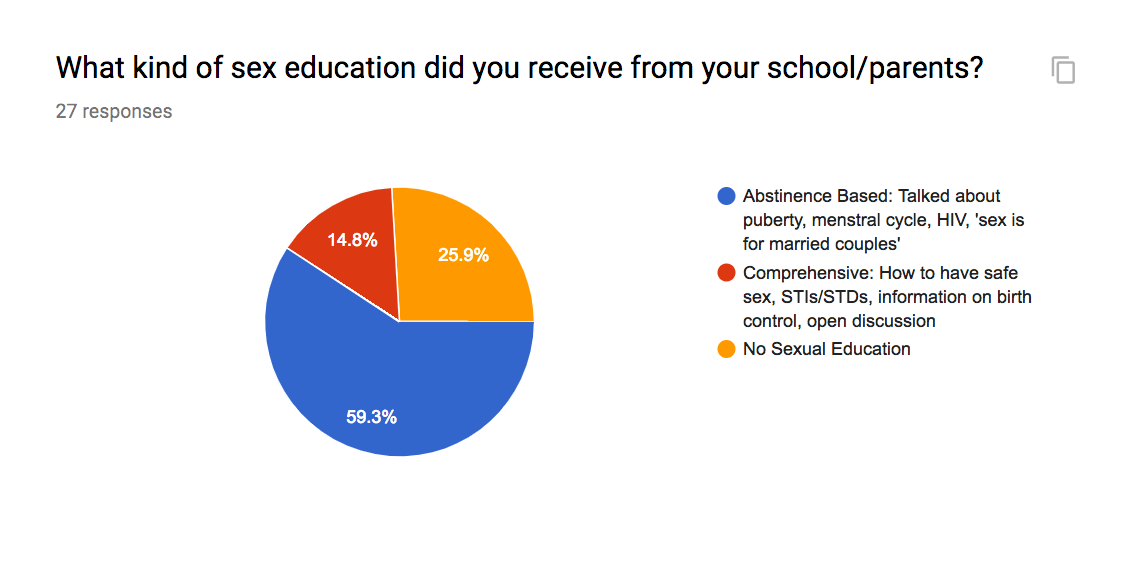 Survey Results 
The survey results pointed to the fact that while most people received censored or no sexual education from a reliable source,
79.2%
 said their friends were a common source of information and
54.3%
chose porn as a resource.
65%
of the biological women said that they were not comfortable talking openly to their gynecologist for fear of being judged, and
60%
said they'd never been tested. These statistics, while taken from a small pool of people, were very worrisome. Out of 24 responses,
95.8%
said they needed a comprehensive resource that wasn't only on the internet. 

​​​​​​​
In addition to a survey, I have been researching and writing about this issue for a year now. I read multiple papers written by educators, professors, gynecologists and even politicians, I have looked through multiple websites which are resources for sex education in other countries and reached out and spoken to multiple people, who I thought could give me insightful perspectives. You can find my paper here, which consolidates some of my findings and own perspectives.
As much as I wanted to jump into making a resource and put it out there, I realized the need for a campaign that would first and foremost address the need to talk about sex, and de-stigmatize it. Therefore, I created Bolo-Bolo, which means to
speak up
in Hindi. The identity is in english and Hindi as they are the two official languages in India. This campaign would have two segment; It would have an event, with free chai outside colleges where volunteers would hand out periodicals and create awareness about the campaign. This would offer a small space for conversation, connection and awareness of the issue. The second segment would be a bigger event where we use Bollywood screenings and a panel to talk about the explicit sexuality in Bollywood to address the face that "If you can watch it, you can talk about it." Actors and directors would be invited to talk about sexual health and their support for it. 
Campaign Identity and Application of Identity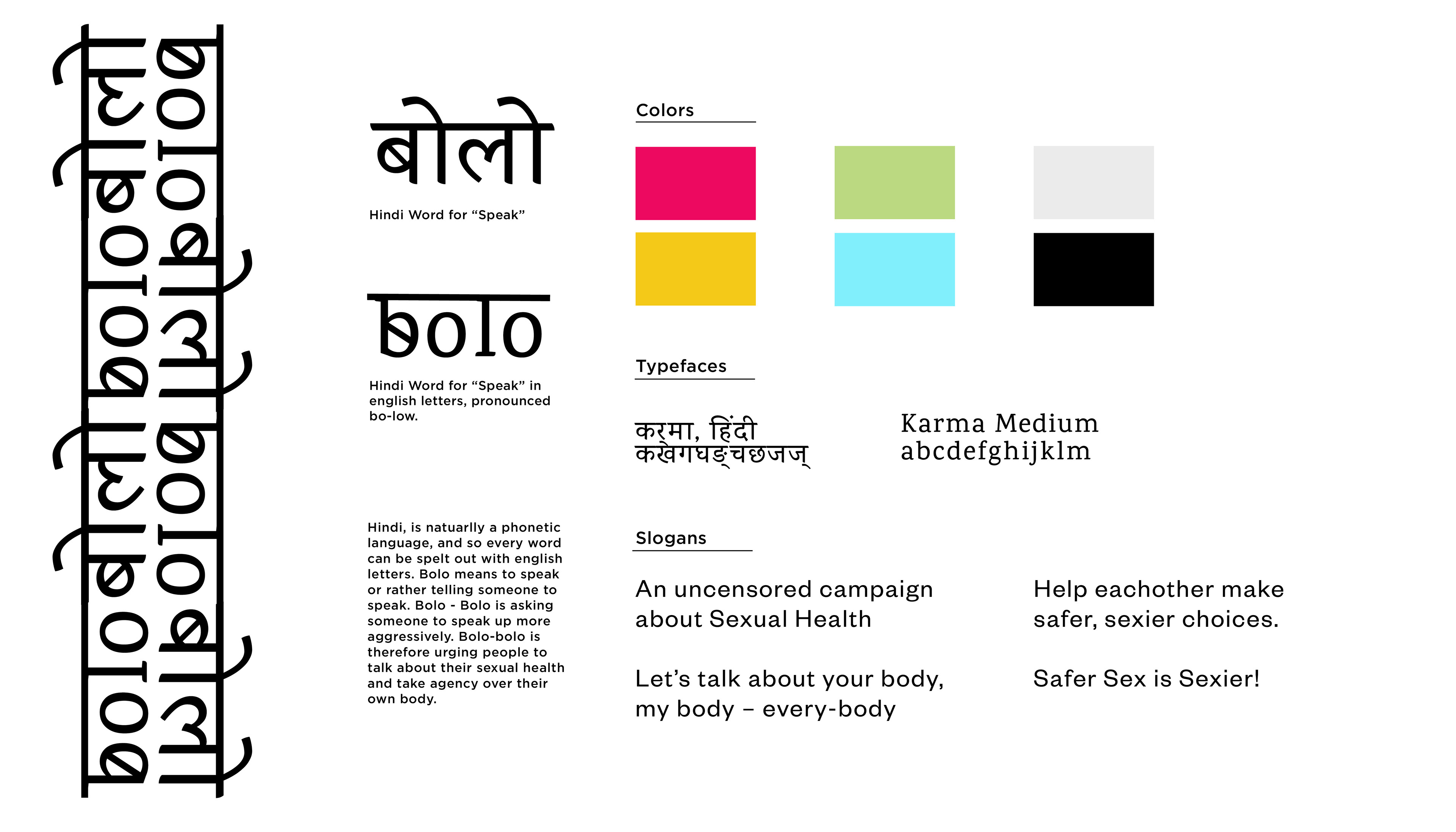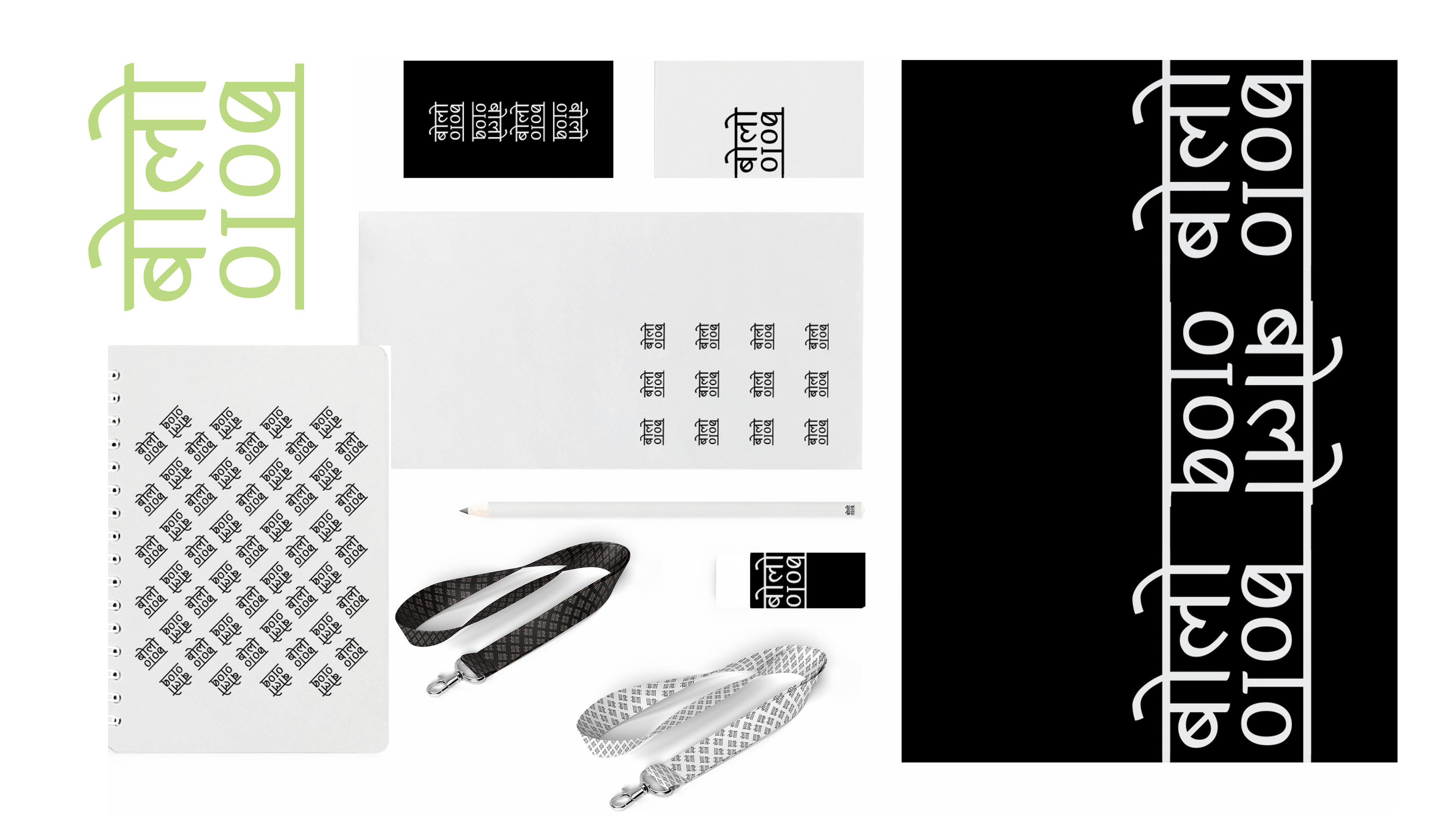 Segment 1: Baat-Cheet (chit-chat)
Baat -cheet translates to chit-chat in Hindi, and is a segment of bolo - bolo where we would out up a chai or soda stand outside colleges and offer our Periodicals and a free beverage ti anyone who comes up and talks to us. The conversations will be casual and the goal would be to get word out about our campaign. Baat-Cheet would be ideally funded by organizations like the Family Planning Association and World Health Organization who have been pushing for a change in attitude towards sex education in India.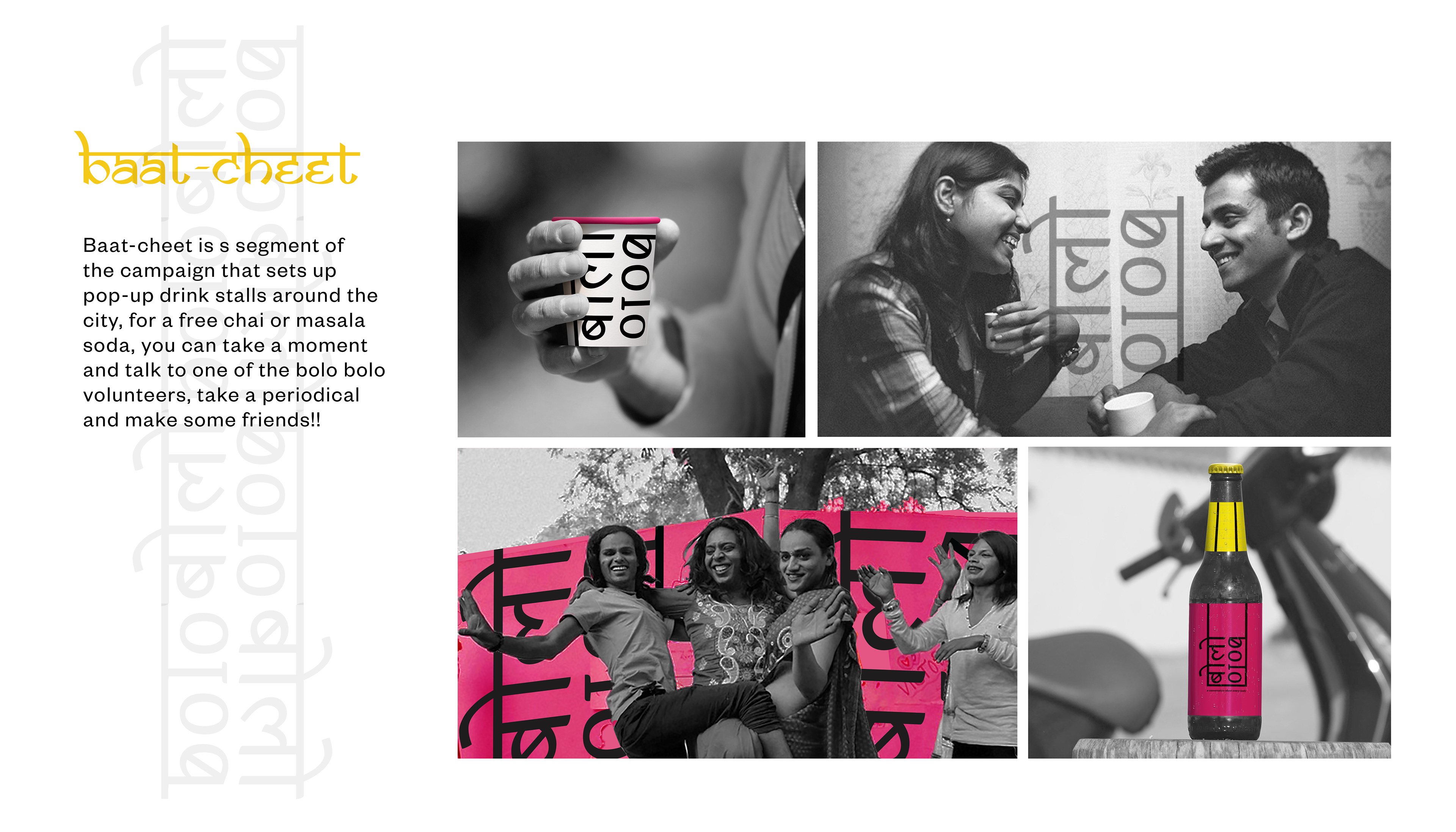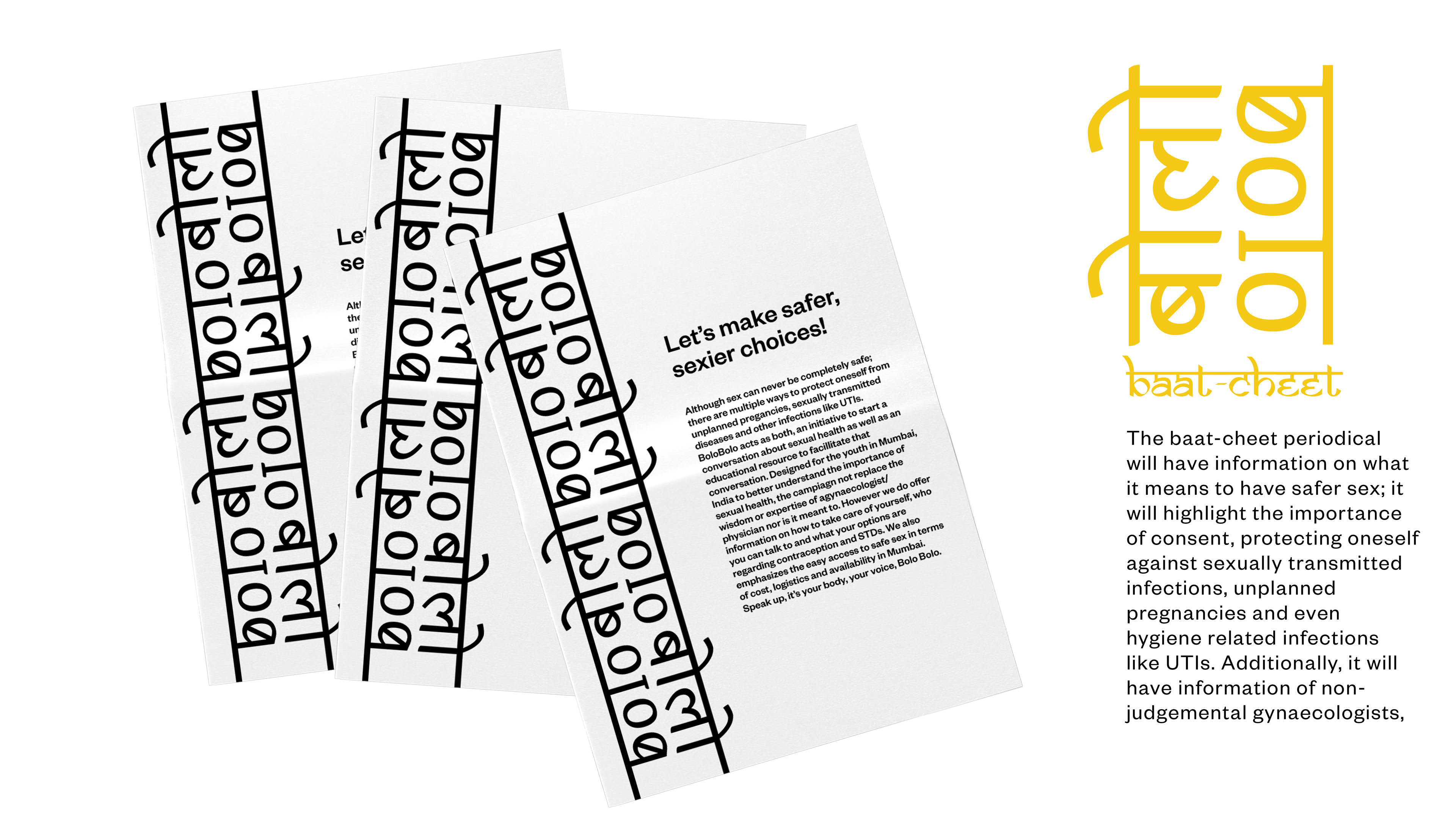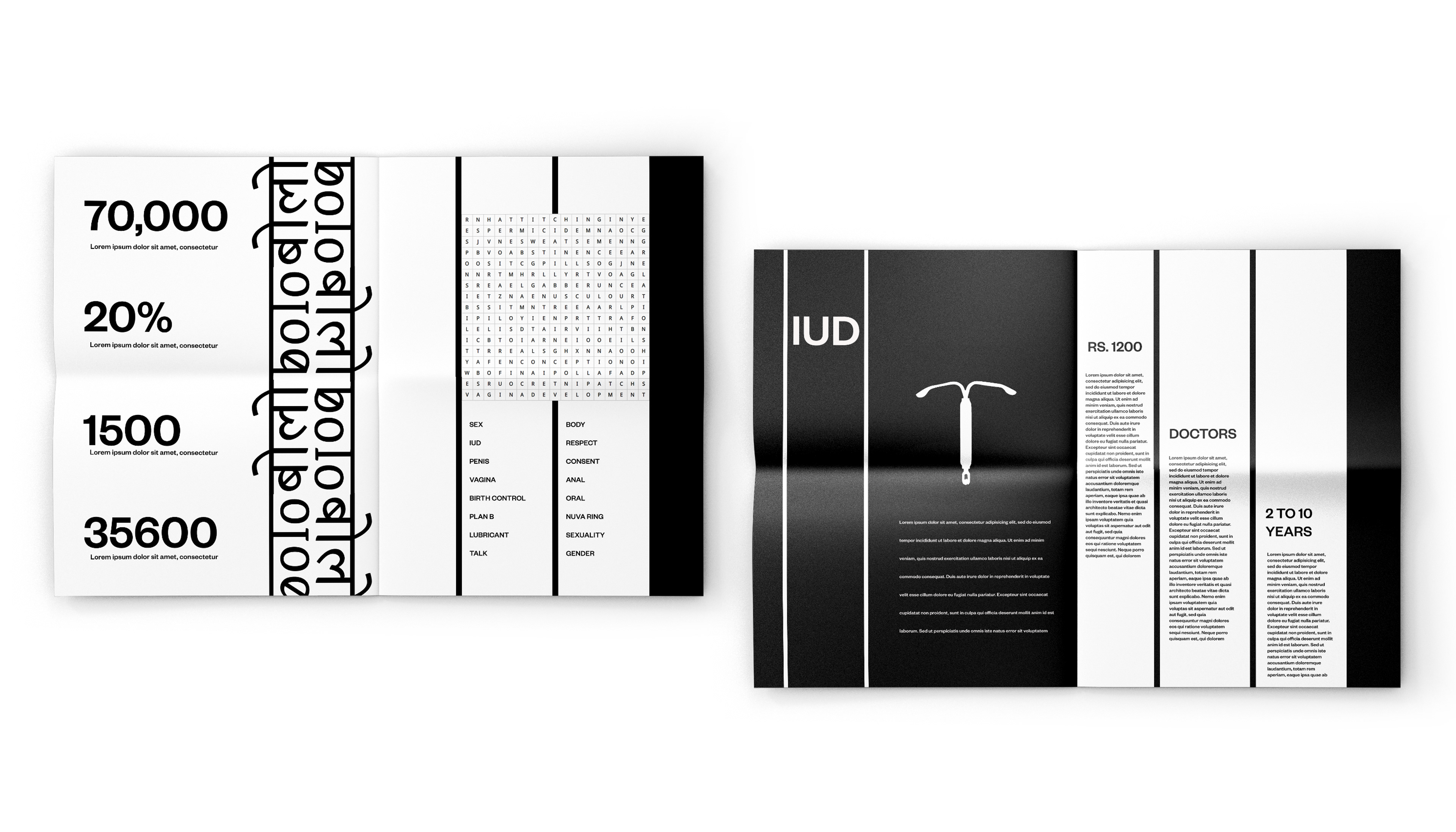 Segment 2: BOLO-Bollywood 
Bolo-Bollywood is a larger event which highlights the explicit sexuality in Bollywood and our very natural acceptance of them. It will bring together actors who will open up panel discussion about sex and sexual health and how the stigma on it is affecting the health and knowledge of it for younger people.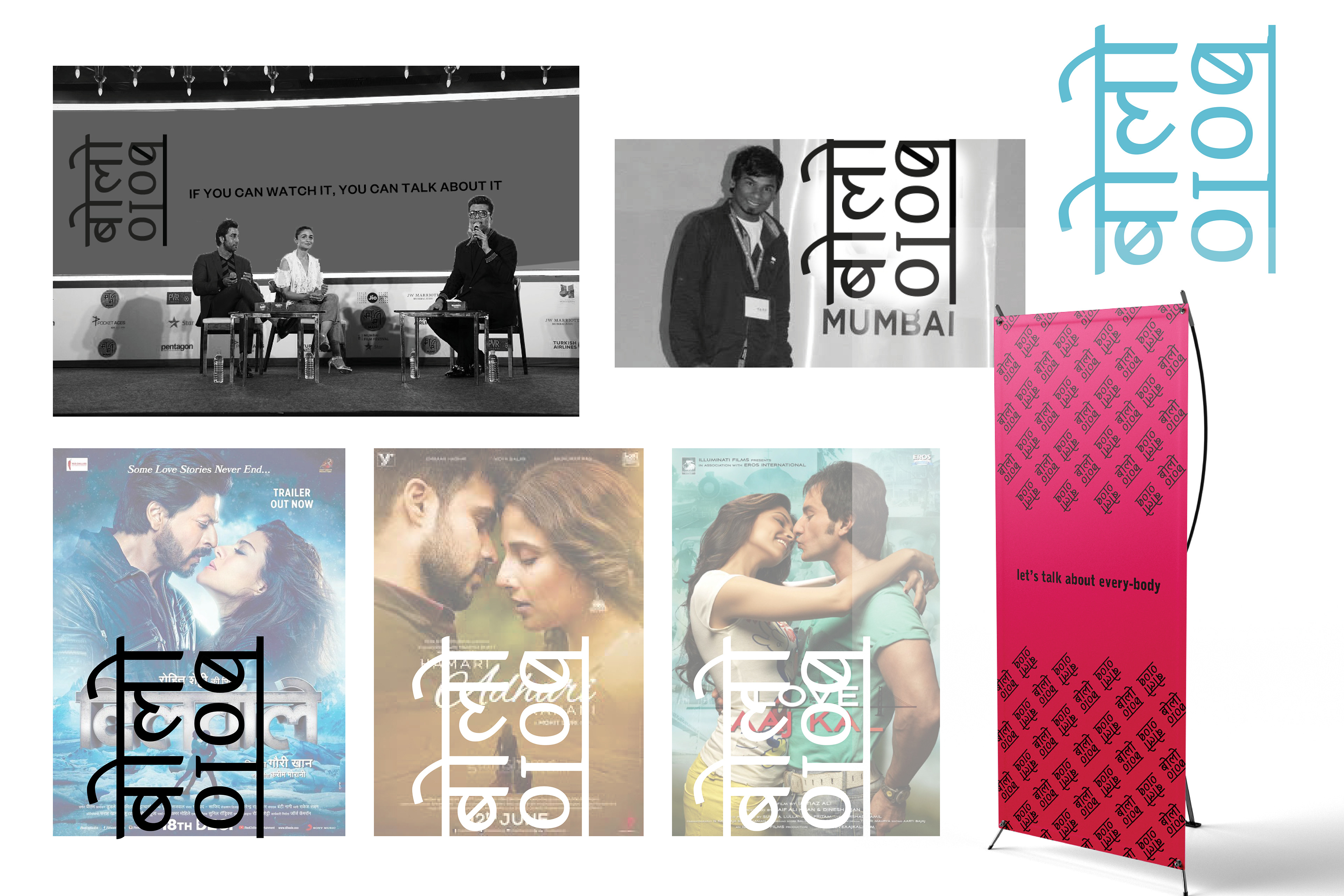 The train stations, bus stops, and other public places will have large scale posters and signs about the campaign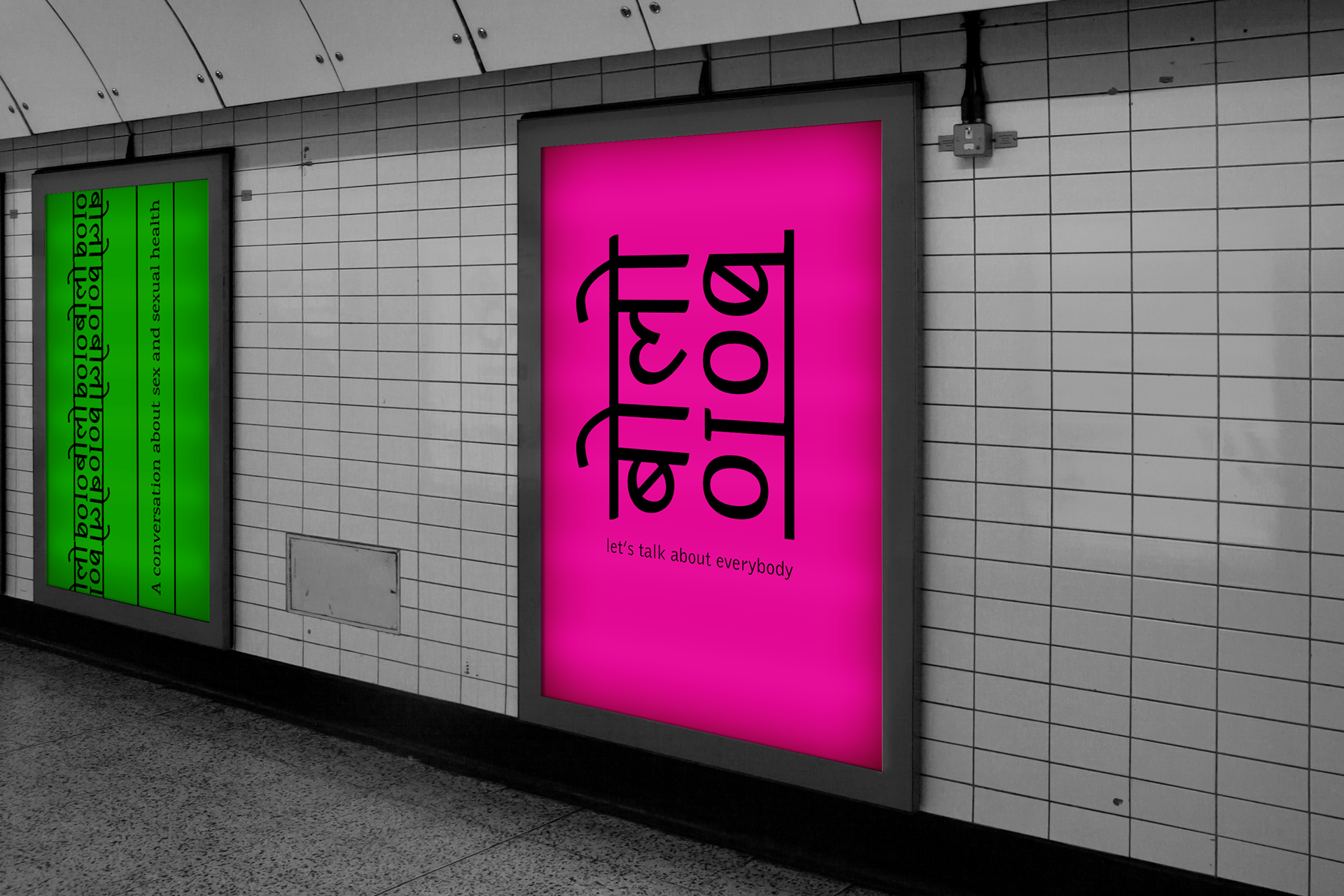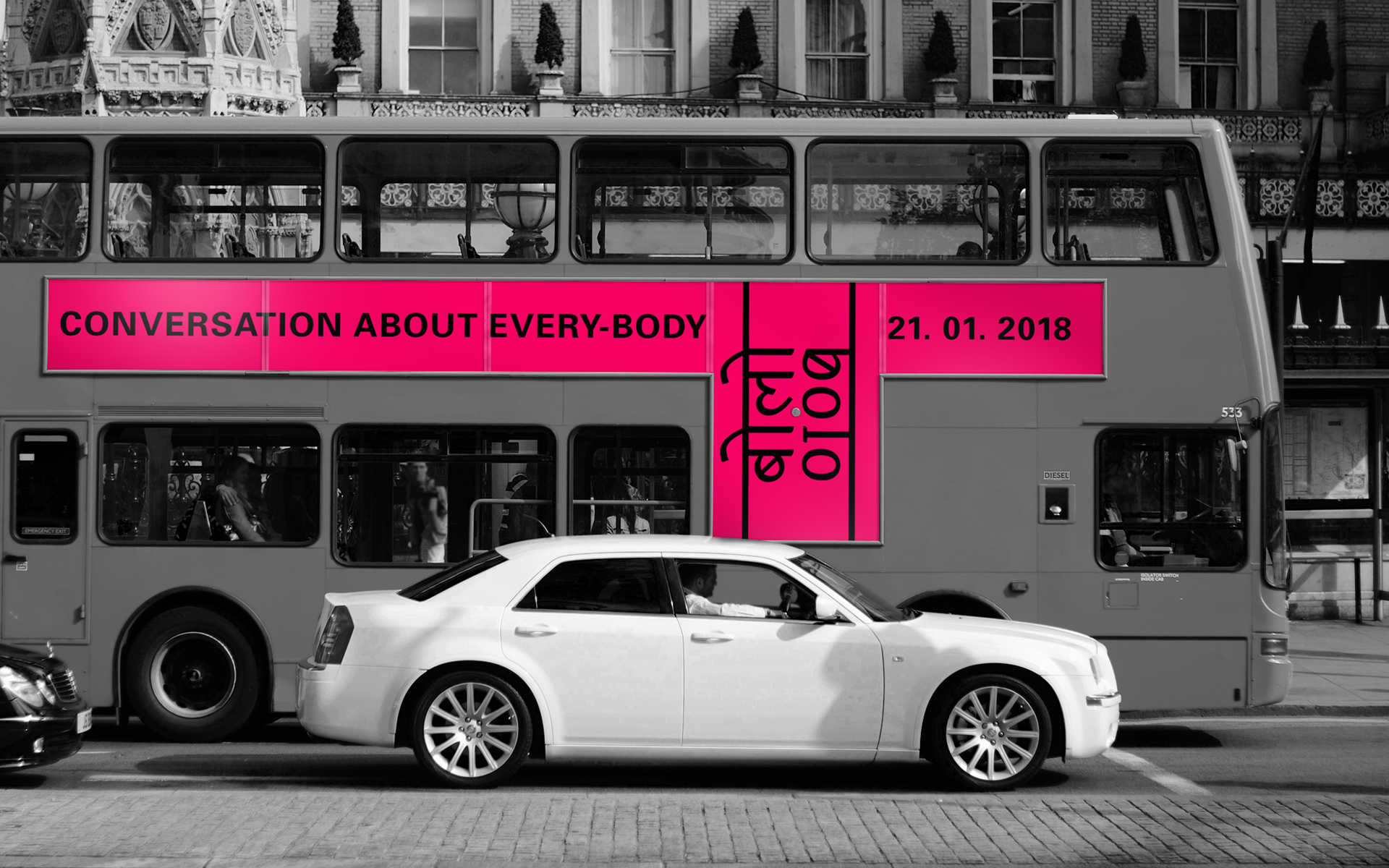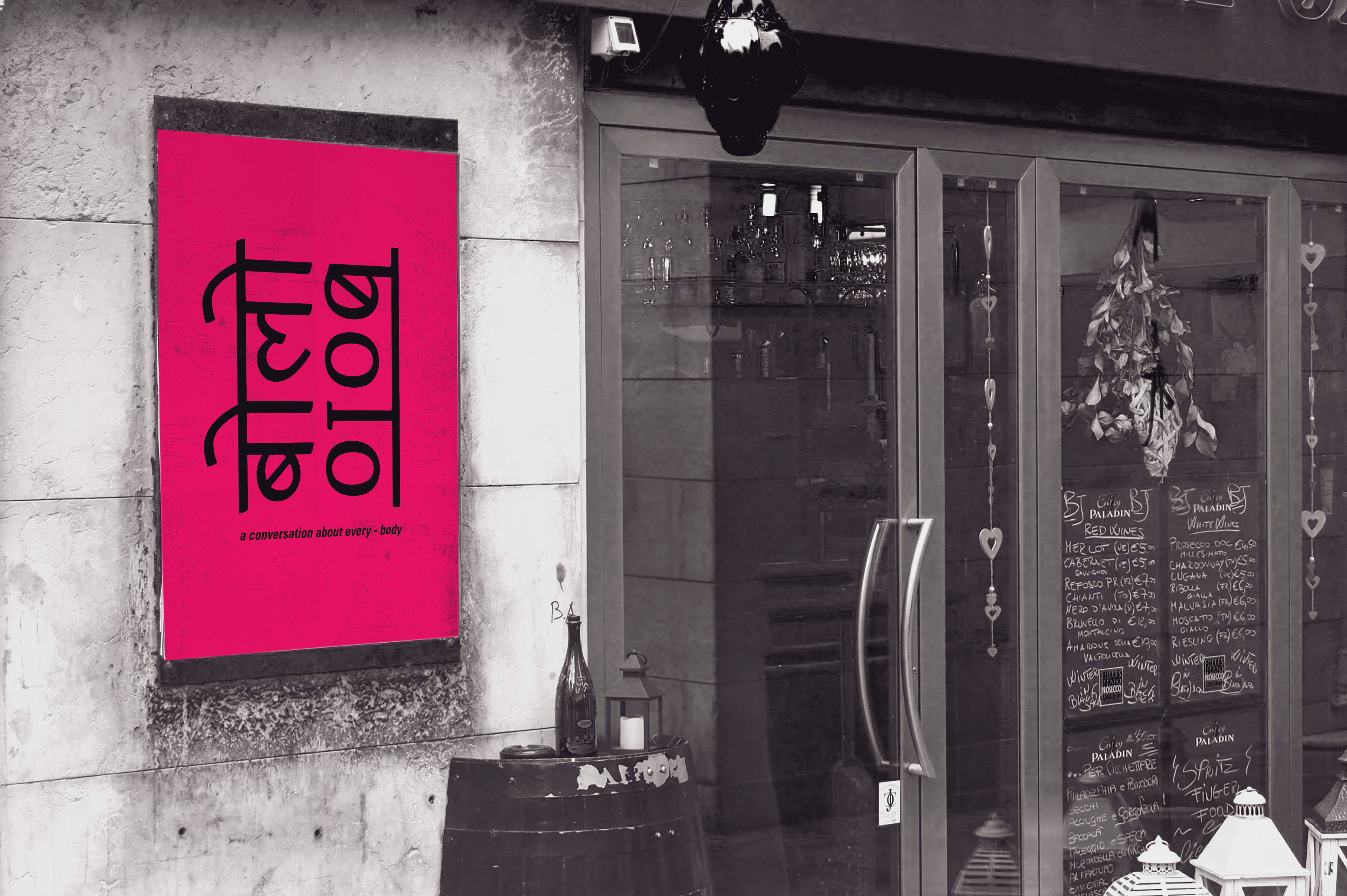 BOLO BOLO: THE RESOURCE (WIP)
Everything in this section, is a work in progress (including the illustrations) and meant to give you a an idea, a glimpse of the final product. The colors and typography have been changed to reflect a visual language more suited to the product as a learning tool. The website has information, articles, quizzes and news. 
Full Website to come soon as new project!